One Lap of Connecticut
Soon thereafter, we found some rolling hills to get our pulses going.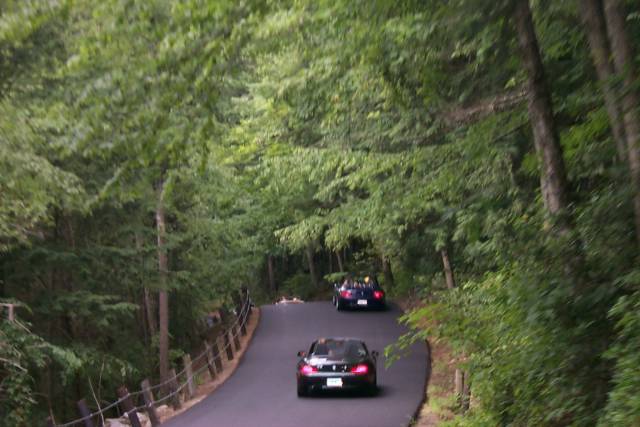 Nancy and Danny led us down one side of a small river, once we all made the turn. Some other cars got in between us, and I kept driving straight when everyone turned down this road. Unfortunately, I saw 'em just as I was passing the road. I had to make a U-Turn on the bridge to get back in line. We stopped a little bit further down the road at a nice, little general store for a necessary bio break.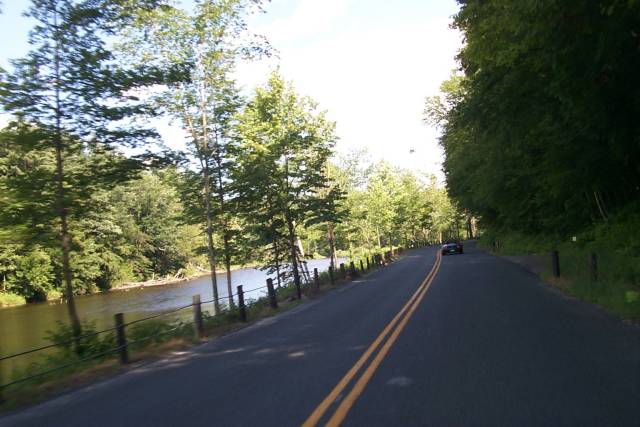 After the stop, we went back up the river on the other side, and eventually, I heard Dan say "And, here's the bridge you didn't go over before we stopped" "I did," was my reply :-)
Dan then led us past a snooty 'private' lake that was 'by permit only'. All of us drove past, slowly, in a show of "the best revenge is living well" sort of style. At one point, we passed one of the new Toyota MR2s going the other way. After about the 9th or 10th Z3 passed him, I'm guessing (hoping?) that he was wondering if he'd made the right choice. I do like the way they're designed, but unfortunately, they only have a miniscule amount of storage space.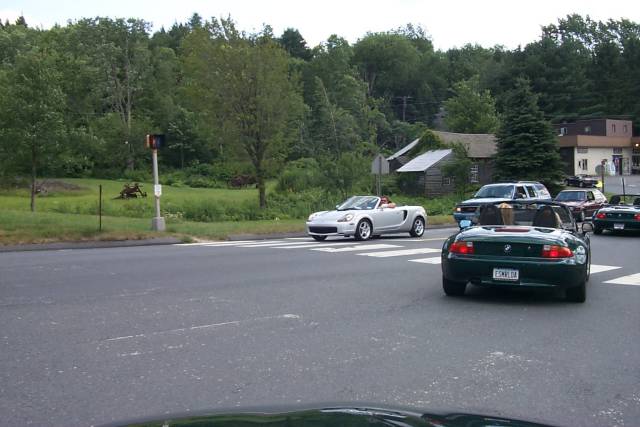 Around here in the trip, we went through the general vicinity where Bill Zehrung lives. He showed us some nice roads up around a lake or three.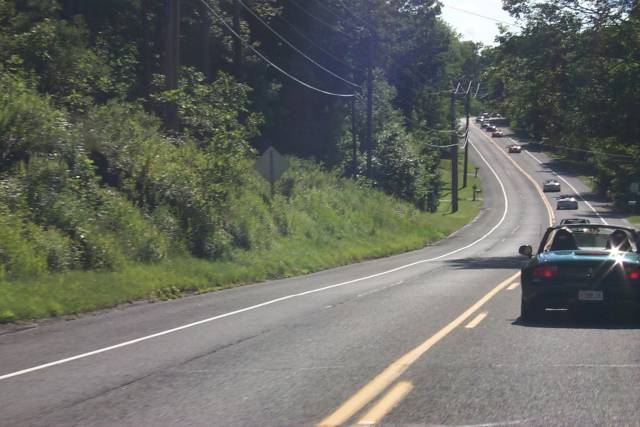 It was getting towards dinner time, so more people were out on the roads. Fortunately, we were close to the restaurant, which was a nice steak house in Danbury, right along I-84 and US 6. When we got there, we were told "15 minutes" which can sometimes be right away, and sometimes longer. Rachel and I realized we had long drives ahead of us to get home, so we excused ourselves and ate separately so we could get on the road faster. I had a two and a half hour ride home, and I was already getting tired. After eating, we said our goodbyes, and hit the road. Well, ok, it was more like touching the road, but you get the idea.
Our drive back involved going on US 6 to Bear Mountain, across the bridge, and then onto the Palisades Parkway. The Palisades Parkway is nice, and ends up at the entrance to the George Washington Bridge, and is close to the top of the NJ Turnpike. However, before we got that far, our gas situation was getting low. We chose to stop at the next noticeable gas station, which happened to be a Citgo in an island in the middle of the Parkway. Get a load of the price for Self-Serve Premium!!!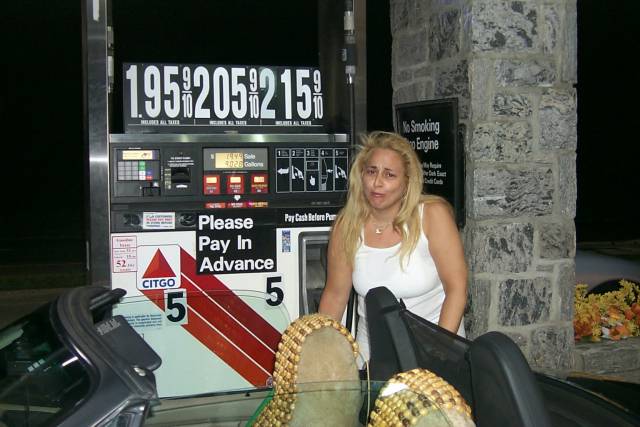 With apologies to my European readers, I never thought I'd ever pay more than $2 a gallon for gas in the U.S. Oh well, as you can see, we begrudgingly paid. This was while we were still in New York state, and we weren't sure if there would be any more stations before we parted company at the George Washington Bridge. It was here where I took the pics of the scratches on Saffy and Esmerelda you saw on the first page, some time around 9:30 PM. Murphy's Law rules, because once we passed into the great Garden State of New Jersey, we drove past a Sunoco station that had premium at $1.80 a gallon, FULL SERVICE. If there's one thing to like about living in NJ, it's the cheaper gas.
During this part of the ride, Rachel and I discussed ways we could have both our cars' bumpers repainted, and how we could handle logistics. Our favorite dealer, Daniel's BMW in Allentown, PA, has a paint and dent guy who is only there once a week. As it stands, we both have appointments for this coming Monday, so it won't be long before we're both shiny and new!
Thanks are due to Nancy and Dan Lawrence for planning the event, Bill Zehrung for leading us on a short diversion, Al for leading for a stretch, Dave Zeleznik for providing us with great maps, and Todd for putting up with Rachel and us on Friday night. See y'all soon!
---
Go to
One Lap, Page 5