Doug and Kathy's Wedding
Part 1
My friend Doug married Kathy back in September of 1998. For some crazy reason, Doug thought it would be a good idea for me to stand up with him and be an usher. Well, Ush I did, and while doing so, I took may incriminating photos of the events surrounding their wedding. Here are the ones I feel I can publish without fear of legal action.
While we were waiting for the guests and bridal party to arrive, we waited in an anteroom in the church. Here is a picture taken just moments beforehand. Doug weighed his options. I can neither confirm nor deny that he was making a break for it, nor can I comment on any tackling of said groom that was rumored to occur just outside this door.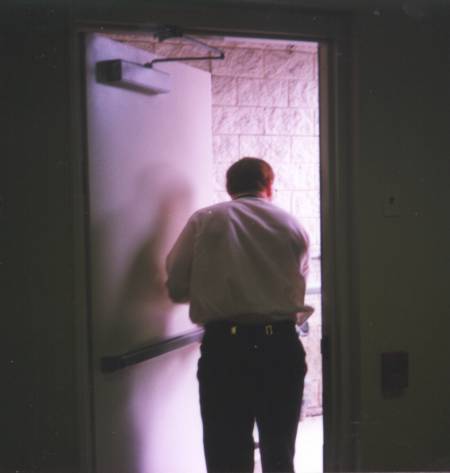 The wedding itself went off without a hitch, pun intended. Seriously, everything went smoothly. Here are the groomsmen, and not an FBI photo of a crime family as you might suspect. Shown are G. Douglas La Cosa Whatstra?, his consiglieri only known as The Joker, Tom, aka Laughing Boy , and Johnny Are you talkin' to me?? Trudel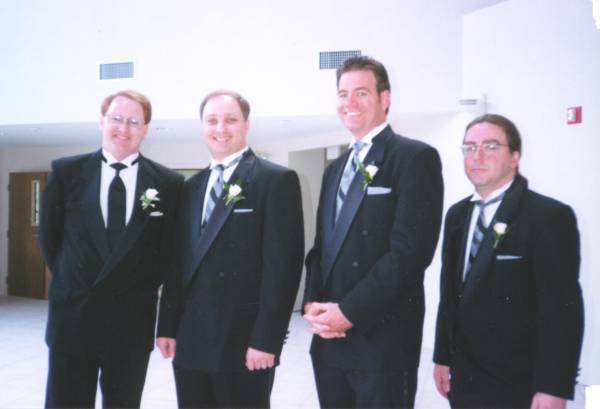 Right before we left for the reception, everyone gave a balloon its freedom in a symbolic gesture of the celebration of this great day.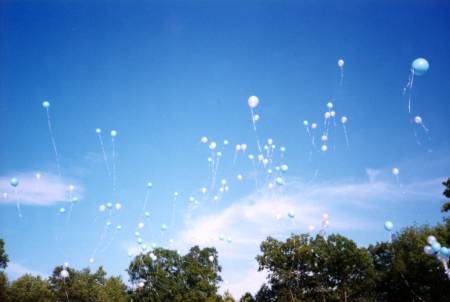 Saaaay, this is private!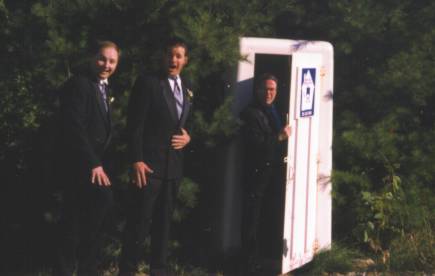 The reception was held at a local country club in Denville, NJ. When we got there, we had a few moments to reflect on the ceremony. Tom listens intently as Michelle speaks. Meanwhile, Katrina contemplates her next move. It was a great day to be outside!!!
Once we were a little more settled, the official wedding photos began. Here is the the happy couple, both sets of parents, and Kathy and Doug's sisters and brothers: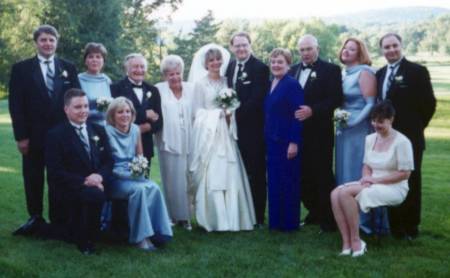 Jump to more photos: