Updated 6/7//2003

The M44 1.9l has on occasion a problem with rough starting. It appears to occur mostly on the start after very quick drives like when you move a car into the garage after washing it.

When it occurs you usually have to crank the car for awhile before it starts. When it does start it tends to run rough for a few minutes until it gets some heat into the plugs and clears the fouling. BMW has a service bulletin or two about this (and rough idle) but IME the fixes they suggest don't really help. IMO, the cold start enrichment is slightly fouling the spark plugs which is causing the restart to be difficult.

One of the claimed benefits of the Bosch Platinum +4 sparks plugs (stock #4417) is that they are more resistant to fouling. Because of this I decided to try them in my car to see if they would help the hard start. The plugs are about $24 a set, I purchased mine from Pep Boys. You can get very good install directions courtesy of Ron Stygar here.

The +4s greatly improved the hard start problem in my car. It almost never occurred after I put them in and on the few occasions when it did the car still started much easier and the idle smoothed out almost instantly. The everyday idle seemed a bit smoother as well. I've heard similar comments from a lot of other 1.9l owners so I think these plugs are a very safe bet in that engine.

However, I have seen a couple of reports of problems with these plugs in the 3.2l. Apparently they may run a little to hot for that engine. I'd skip this mod in that engine until there is more data either way. I believe 2.8ls (and probably 2.3l) owners run the +4s without a problem but would appreciate any corrections on that.

If you are wary about using these plugs in your 1.9l, BMW now has a plug of similar construction available. Details available here.

_________________________________________________

When I supercharged my car I decided I wanted to run a colder plug in the car to help remove a little additional heat from the combustion chamber. This is to try and help keep detonation away. Tried talking to Bosch to see if they had a colder version of the +4 but the #4417s are the coldest in that series available. The stock Bosch plugs are also the coldest in the series. They would not give me recommendations on other plugs.

I called NGK and spoke to an applications engineer there. He also felt that a colder plug would be a good idea. Problem was the stock type plugs are also the coldest available in that series. He recommended two different plugs for this application.

The first was the BKR7E (stock #6097) which is considered a street plug but is one step colder then stock. The ground electrode design is more conventional then the stock plugs but he felt they would work fine. These are a little hard to find locally so you may have to order from a place like Summit Racing. They are around $3-5 a plug.

The other plug recommended was the R7113-7 which is from their racing series of plugs. These are extremely well built and very tough to withstand conditions inside a racing engine. The last digit is the heat range and this series of plugs can get many steps colder. The higher the number the colder the plug. Stock is a '6' heat range. The engineer stressed that the BKR7E is a perfectly good plug but that if it was his engine he would use the R7113-7. So of course that is what I did. Here is the kicker though... list on these puppies are $40 each!!! Makes me glad I only have to buy four not six of them. ;) Most likely you won't find them locally. NGK recommended buying them from a distributor at 888-800-9629. I bought the plugs from them for $17.41 each. You can order them online from this company here.

With either plug they should be gapped to the narrow end of the spec. in a forced induction engine.

Since these plugs are colder then stock it makes them more likely to foul. I swapped out the +4s for these plugs and I do suffer from the hard start again on occasion. Additionally after driving for the first 10 seconds or so after starting the car in the morning the engine feels slightly rough for a minute or two. Very similar to the common complaint for 3.2l owners. I think the cold start enrichment is again ever so slightly fouling these plugs before they warm up sufficiently to burn off the deposits. After about a minute of driving the engine runs fine. There are no problems with fouling from sitting in traffic or anything like that so it is just a minor annoyance. If I went with even colder plugs then they could start fouling under everyday driving conditions but they might be a good idea for extended track driving.
__________________________________________

So for a natural aspirated 1.9l I'd recommend the Bosch Platinum +4s or the BMW High Performance plugs. On a supercharged car the above plugs should work but if you think you may be having a problem with detonation (if you are local stop by and we can test this see the garage invite) the colder NGKs are a good idea.

BTW, another guy with a supercharged 3.2l called the NGK applications engineer for plug suggestions for his car and got the exact same recommendations as I did.

_____________________________________________

Spark plug wires:

After reading all the good information at Magnecor's website and see good comments about their products in general I decided these are the wires I would use on my car. I wasn't sure which wire set to use so I e-mailed Magnecor to get a recommendation. The details are copied below:

Shawn Fogg wrote:
>
> Hi,
>
> I was looking for advice on which of your wires you would recommend for my car. I have a '96 BMW Z3 1.9l.
>
> The car has an aftermarket supercharger (Eaton@8psi) and different spark plugs. It has NGK R7113-7 spark plugs which are from NGKs racing plug line (very heavy duty) and are one step colder then stock. I have them gapped at the narrower end of the factory spec.
>
> Given this what plug wires would your recommend? I was thinking the 8.5mm race series might be a good set but I wanted to double check. Also where can I purchase these wires? I'm located in RI.
>
> Thanks,
> Shawn Fogg

The KV85 is the way to go, but all prices follow. There is a long wiring loom that is designed for 7mm cable - 8.5mm is a tight fit.

The price for this is:

7mm cable, part number 47247 - $109.10
8mm cable, part number 40247 - $110.55
KV85 8.5mm cable, part number 45247 - $127.50

Shipping costs to US ZIP codes are included (including APO/FPO addresses, Guam, Puerto Rico, US Virgin Islands), we usually use UPS 2 or 3 day services or Priority Mail. We can handle most special shipping requests, express shipping costs are extra. Shipping costs outside of USA will vary - we can ship anywhere in the world.

The 7mm or 8mm cables should be fine for a standard unmodified engine (they are the same, the 8mm only has a slightly thicker insulating jacket) - however not all sets are available in 7mm cable so it may not be listed; the KV85 Competition 8.5mm cable is intended for raced or modified engines (it is not just a bigger cable, it is a different product that has more capabilities for performance, suppression and heat resistance) - however, the 8.5mm can be used on ANY engine with no problems and it is more generally recommended for newer electronically-controlled engines; the R-100 Racing 10mm cable is the same basic cable as the 8.5mm and provides the same performance and suppression, but has a thicker jacket for more extreme temperature protection and insulation.

I cannot suggest a dealer in RI at all. If you want to order direct, we will need.

Name and shipping address
credit card's billing address (if different)
credit card's number and expiration date
credit card's customer number (for Commercial Cards only)
a daytime telephone number or somewhere we can leave a message

We accept Visa, Mastercard, Discover or American Express. We do not have a secure server, so if you do not feel confident e-mailing this information you should fax it to me at 248-669-2994 or telephone it to 248-669-6688. Please contact me if you have any questions.

Please note that all prices are subject to change without notice, although this quote is valid for 3 months. 6% sales tax is applicable for Michigan sales.

PLEASE NOTE: At the moment we have a large backlog of orders and most orders are taking around 4 weeks to ship, more for some popular parts. If you want to place an order we apologize in advance for any inconvenience this may cause.

Steve Brown - Magnecor (Michigan, USA)
Telephone: 248-669-6688
Fax: 248-669-2994
WWW: http://www.magnecor.com

Mailing Address:
3285 Martin Road 101
Walled Lake MI 48390
USA
____________________________________________________

So based on this I just ordered the KV85 for my car. When I get them I'll see how tight of a fit they are in the wiring loom. It is plastic so if need be it could be filed a little bigger for the wires to fit.

_____________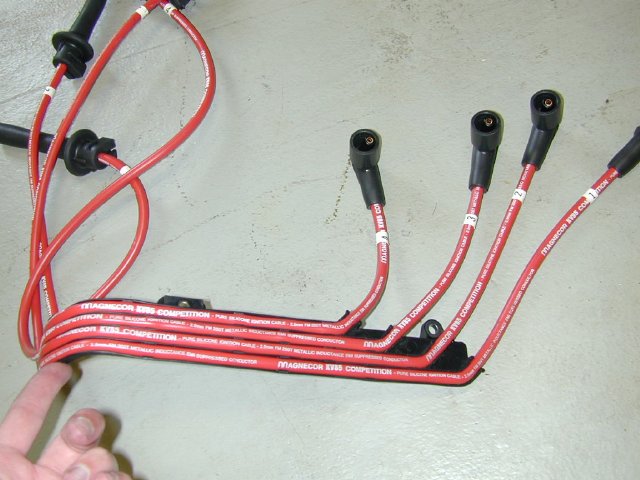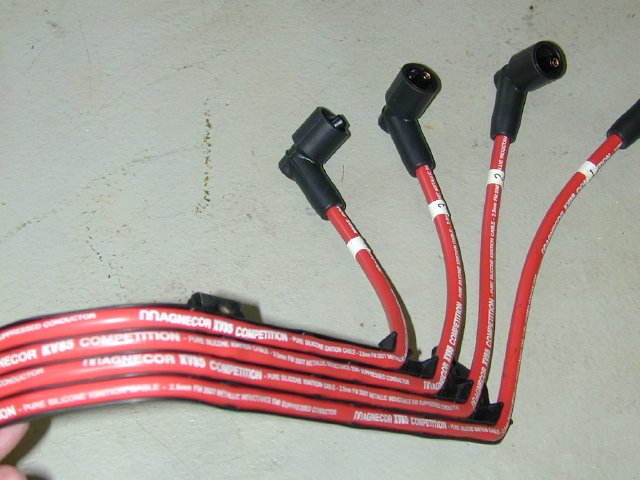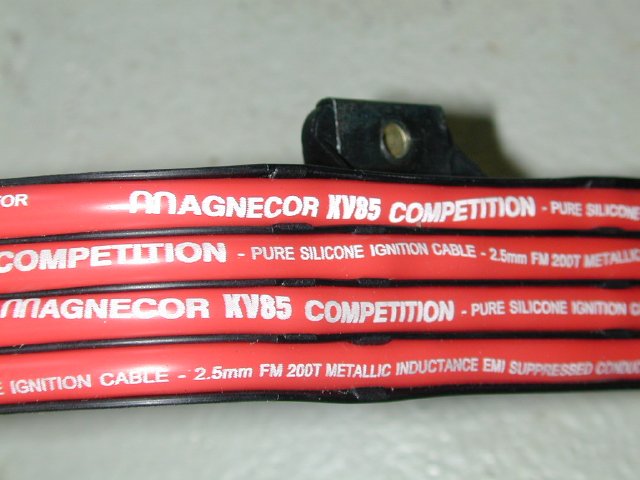 It is a tight fit but they do go in. I doubt it could be done with the wire loom still in the car though. That comes out pretty easily by taking off the two 10mm nuts that hold it in place. They are in and they do fit but it is tight. The plastic case inside the valve cover needed to be modded slightly. The channel in the top left hand side needs to be enlarged a little or the wires stick up too high and prevent the cover from fitting on top. A few minutes with the Dremel took care of that.
And the only way to get the wires to sit in fully is with that out of the car. So I wired up both before hand and installed them in the car as one unit. So of course the heat shield that is also attached with the lower loom was being a pain.